Welcome to OLLI at Emory
Slide 1: Welcome to OLLI at Emory No tests, no homework, just the joy of learning.

Slide 2: Fall courses open for registration! Enjoy in-person and online learning.

Slide 3: Osher Lifelong Learning Institute (OLLI) Emory University Designed for inquiring adults, age 50 and "better," who wish to pursue lifelong learning in a relaxed non-competitive atmosphere.

Slide 4: Offering Zoom and in-person learning courses Sign-up now for in-person and Zoom courses.
Osher Lifelong Learning Institute (OLLI) at Emory
---
Download the Fall 2023 Catalog (PDF)
The Osher Lifelong Learning Institute (OLLI) at Emory is a lifelong learning program for seasoned adults who enjoy learning for fun. At OLLI, the thirst for knowledge never ends, with classes and social programs that nourish the mind, body, and soul. Build friendships with others who live in the spirit of learning and personal growth by choosing from dozens of classes and special interest programs.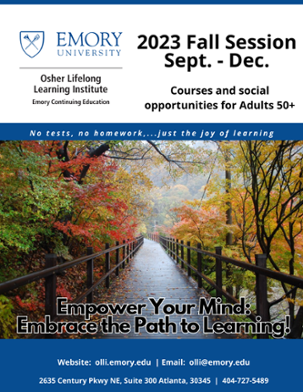 OLLI Membership
---
OLLI offers online and in-person programs, and we have an exciting program planned for 2022. 
OLLI is all about learning for the love of it. Membership is required to take most courses, attend events, and take advantage of other OLLI opportunities. We invite you to become a member.
Annual membership is $50 and runs from September 1 through August 31 of each year.
Join OLLI